Skip to Content
What to Expect During Fence Installation
Your Fence Installation With Fencing South Florida
We understand that hiring a reliable and reputable fencing contractor is important, and that's why our team of professionals works hard to deliver a top-quality job, whether you need the materials for a fence or a team to assemble it for you. We are here to discuss your needs, answer questions, and execute an unparalleled final product.
Build Your Own Customized Fencing Quote Online in Only a Few Minutes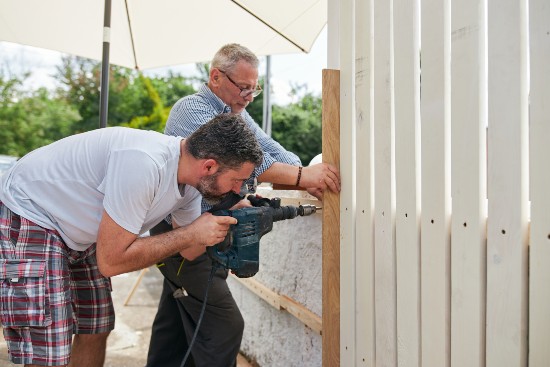 Hiring Fencing South Florida as Your Fence Contractors
The first step to getting your fence installation needs taken care of is checking out our portfolio and contacting one of our experienced contractors to discuss the kind of fencing solution you're looking for. Our team will be able to help you decide on the best fencing option and answer all of your questions.
Questions to Ask When Weighing Options for Your New Fence
It's vital for us to know the details. We encourage customers to ask questions about what will work for their needs, interests, and budget. For instance, you can ask us which fence is best for keeping your children safe around the pool, or which offers longevity. We want to ensure that all your needs are met.
Exploring Material Options for Your Fence Installation
We offer a variety of materials at Fencing South Florida. When planning to install a new fence, it's essential to understand the differences and benefits of each material so you can decide which suits your project best. Our knowledgeable team is happy to go over your options to give you clarity on your decision.
Choosing Your Fencing Style
Fencing South Florida offers fencing installation options for commercial, residential, or industrial spaces. We provide solutions for privacy, security, décor, and much more. You create the project description of what you want to achieve, and we will do the heavy lifting to ensure impeccable results based on your budget and desires.
Fence Maintenance
Different types of fences require different types of maintenance. We are glad to guide you toward a fence that will fit your needs based on how much maintenance you would like to handle. Once you've decided, we will explain how to care for your chosen type of fence and what you can expect from it.
Creating Project Descriptions for Your Fencing Installation
Whether you opted for a wood fence or a vinyl fence, a security fence or a decorative fence, by the time your appointment concludes, we will be able to give you insight into maintenance, durability, longevity, and an accurate estimate of your new fence installation. We ensure transparency in all our jobs.
Permits and Possible Setbacks
Depending on where you reside, your municipality may require specific permits. Our experienced team knows the rules of the municipalities we cover and we ensure everything is handled correctly and all building requirements are met before we start the fence installation. Call us to get more information about specifications in your area.
Wait Times on Your Fence Installation
We ask our customers to be understanding of wait times on their installations. Some projects require permits that take time to receive, setting back the start time by up to two months. If you do not need a permit, you can expect a scheduled time between 3-4 weeks, and 6 weeks for custom fencing. Staging materials can also cause delays.
Insurance and References
At Fencing South Florida, we take pride in delivering excellent results. After more than 20 years in the industry, we know how to satisfy our customers with reputable work and the assurance that if something goes wrong, we will fix it immediately. You can check out our testimonials and our portfolio of work for added comfort in your decision.
Why You Should Choose Fencing South Florida
Fencing South Florida offers the unique advantage of not only installing your fence, but also curating the materials needed for your fence at our very own factory. By eliminating the middleman, we can offer our customers affordable rates on the highest quality materials in the business. We make the process quick and efficient, leaving you with stunning results.
Testimonials
All I can say is WOW! I knew it would be a great experience when the General Manager Frank Ward came personally to give me a quote because I wanted it done quickly. Within one day, he was at my house. After speaking with Frank, he went in his car and within 15 minutes, I had a quote. It was even a bit less than others but the main reason I chose Fencing South Florida was due to the professionalism I received from day one. AMAZING! Thank you to Frank and his entire team of professionals. They are all so nice and in my 20 years in Florida, this was the best service I received! Nice job!!
I love people who are serious about there work, this company made the most back breaking work look easy and before you know it 200 ft of fence went up and my yard was mine again..... Thanks for the huge discount and the great service.
I needed some security gates badly and did not have a lot of money to spend, this company wins the prize, problem solved with a few bucks to spare, I couldn't be happier….Thanks, Dan, you the man.
Fencing South Florida did a very nice job. There were a few things that needed attention after install and they took care of what needed to be done. I would recommend this company.
My new fence is beautiful! We decided to go with white vinyl instead of wood and we are very pleased!
Contact Us Today to Begin Your Fencing Project
No project is too big or complicated for the professionals at Fencing South Florida. We are here to ensure you get the quality results you deserve at an affordable price. Don't wait; call or email us today to discuss your fencing project and book your appointment.
Build Your Own Customized Quote