Skip to Content
Aluminum Fencing in Palm Beach County
Best Aluminum Fencing
Less Maintenance Needed and Very Affordable
Aluminum fencing is one of the most popular and durable materials available. An aluminum fence can offer the look you want with less maintenance and a price tag you'll love. Whether you're considering a privacy fence, picket fence, or baby pool fence for your property, we can help you choose the right aluminum fence style. We also offer industrial aluminum fence installation in need of wholesale aluminum fencing or custom aluminum fencing for your residential needs.
Build Your Own Customized Fencing Quote Online in Only a Few Minutes
Four Advantages of Aluminum Fences
There are many reasons our customers opt for aluminum fences. This popular residential and commercial fencing material may be the perfect solution for your property.
Low Maintenance
An aluminum fence will stand strong for decades without succumbing to rust, rot, or fading. If you want to install your fence and then forget about it, aluminum is the right choice for you.
High-End Iron Fencing Looking
Aluminum fences can give you the look of high-end wrought iron fencing at a fraction of the weight and the cost. This means you'll be able to enjoy an aluminum fence style that looks like iron but is easier to install and repair, and won't rust with time.
Easy to Repair
In most cases, fence repair consists of removing and replacing only the damaged component of the fence, rather than a larger or more involved project.
Customizable
Aluminum gates and fences are endlessly customizable to ensure your fence is installed with exactly the look, style, and height you want. Your aluminum fence can be constructed to meet any building codes and safety requirements necessary, whether you want to use aluminum as a perimeter fence for your commercial property or a baby pool fence to protect your family.
Testimonials
What a class act. These guys built me a custom outdoor shower, in a colored material that matched my house for $1100, $350 less than our lowest estimate, and they even built me a custom shelf for the soap and shampoo out of some left over pieces at no extra charge.
We shopped everywhere and got the nicest PVC fence for 400 less than our lowest estimate, and the process was super smooth.
I needed some security gates badly and did not have a lot of money to spend, this company wins the prize, problem solved with a few bucks to spare, I couldn't be happier….Thanks, Dan, you the man.
Fencing South Florida did a very nice job. There were a few things that needed attention after install and they took care of what needed to be done. I would recommend this company.
I hired them for a fence in Coral Springs, FL and they did a great job putting this fence up. The team was very fast and professional from getting the quote to finalizing the installation. Every time I contacted their office someone always answered and/or responded to me within the hour which is fantastic!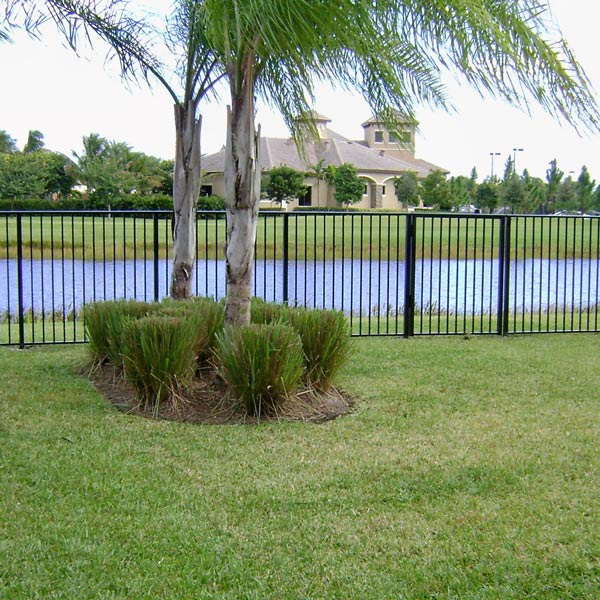 Caring for Your Aluminum Fence
Aluminum fences are popular because they are long-lasting and require minimal care. All your fence will need is just a few minutes of your time every few months to continue looking at its best for decades. Please call Fencing South Florida today at 561-855-4255 to learn more about fence installation and fence repair in Palm Beach.
Wash your fence periodically to remove dirt, debris, and yard or pool chemicals. There are no special products needed to wash your aluminum fence, just a few drops of mild dish soap and a bucket of warm water. Rinse your fence free of suds and let it air dry after washing.
Keep your landscaping trimmed back from your fencing to prevent plants from growing into or around the fence.
Check any hinges or fasteners once a year for damage or wear; your fence company can replace them quickly and easily if you notice any areas of concern.
Build Your Own Customized Quote