Skip to Content
Fence Maintenance in Palm Beach County, FL
The Best Fence Maintenance Services in South Florida
At Fencing South Florida, we ensure customer satisfaction by providing top-quality fencing services and affordable prices and have been doing this for the past 20 years. Our family-owned company has been serving the Palm Beach County, FL community passionately and mastered our comprehensive fencing services including fence maintenance and installation. We'll help you find the best fence for you and your needs as well as provide a service for the maintenance needs you might have in the future. Our team is made up of experts with years of experience.
Build Your Own Customized Fencing Quote Online in Only a Few Minutes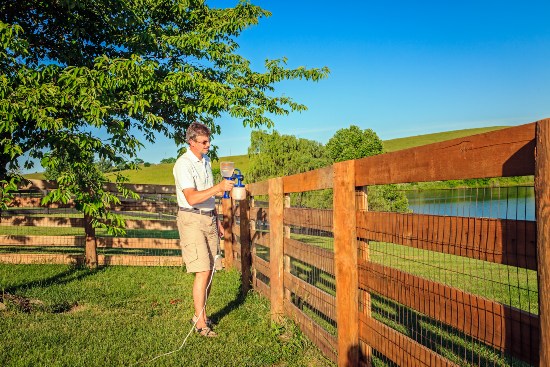 About Our Fence Maintenance Services
At Fencing South Florida, we provide top-quality services including fence maintenance. Whether we installed your fence or not, we will be there to assess weak points, fix repairs, and provide any maintenance you need.
When we provide installation or maintenance services, we will provide you with tips on how to maintain your fence yourself and how to best take care of it, so it lasts. Schedule an appointment with us today so we can provide you with the fencing services you need.
How We Help
Our team are experts at all things fence-related, including fence maintenance. Through our regular maintenance services, we provide:
Fence repair services for any weather or pest damage
Reinforcing weak areas of the fence to help it last longer
Ongoing on-call service for more serious repairs
Emergency fence services for when you need help immediately
Aesthetic enhancements to keep your fence looking its best
Thorough assessments to determine aspects or areas that need attention
Fence Installation and Repair
The experts at Fencing South Florida are highly trained, experienced, and knowledgeable in installing and repairing fences of many materials and designs. We work closely with you to understand your vision and priorities to help recommend the best fence for you. Whether you're looking for a completely private fence, a secure fence, or a low maintenance fence, we will recommend the material and design that best fits your needs. Installing a fence can be a quick way to increase your property value and increase security.
The other major part of our professionals' expertise is maintenance and repairs. This is a crucial service, especially with the harsh weather we have here in Palm Springs County, FL. Between the brutal winds and hurricanes, sometimes it feels like we can't catch a break from weather damage. Some fences are additionally susceptible to pest damage. There's also natural wear and tear of your fence. No matter the damage or the type of fence you have, you can rely on our team to provide thorough and efficient repairs.
Our Fences and Their Maintenance Needs
Some fences require more maintenance than others. If you're looking for a low- or no-maintenance fence, the following fences are a great place to start:
Cedar Fence Maintenance: Cedarwood is one of the preferred materials to use when making a wooden fence. Its natural oils that repel insects and protect the wood from warping or shrinking make it a low-maintenance favorite compared to other wood fence maintenance needs.
Trex Fence Maintenance: Trex (composite material) fences are some of the lowest maintenance fences on the market. They are incredibly durable, resistant to weather damage, and they don't attract pests. If you want a no-maintenance fence, this could be the option for you.
Vinyl Fence Maintenance: Vinyl fencing is another great choice if you want a low- or no-maintenance fence. This option quickly grew in popularity and has stayed at the top of the fencing game because of its long-lasting nature. It isn't susceptible to rot, rust, or pests.
Testimonials
All I can say is WOW! I knew it would be a great experience when the General Manager Frank Ward came personally to give me a quote because I wanted it done quickly. Within one day, he was at my house. After speaking with Frank, he went in his car and within 15 minutes, I had a quote. It was even a bit less than others but the main reason I chose Fencing South Florida was due to the professionalism I received from day one. AMAZING! Thank you to Frank and his entire team of professionals. They are all so nice and in my 20 years in Florida, this was the best service I received! Nice job!!
I love people who are serious about there work, this company made the most back breaking work look easy and before you know it 200 ft of fence went up and my yard was mine again..... Thanks for the huge discount and the great service.
I needed some security gates badly and did not have a lot of money to spend, this company wins the prize, problem solved with a few bucks to spare, I couldn't be happier….Thanks, Dan, you the man.
Fencing South Florida did a very nice job. There were a few things that needed attention after install and they took care of what needed to be done. I would recommend this company.
My new fence is beautiful! We decided to go with white vinyl instead of wood and we are very pleased!
Why Choose Fencing South Florida?
When you choose Fencing South Florida for your fence maintenance needs, you are guaranteed to receive outstanding service. Our team prioritizes understanding your concerns and maintenance needs so that we can provide you with the exact services and products you're looking for. We provide our maintenance services for many types of fences including, but not limited to:
If you want services on any of these fences, check out our services page. For more information about our installation services and other services, you can contact our team today.
Build Your Own Customized Quote