Skip to Content
Commercial Chain Link Fencing in Palm Beach County, FL
Commercial Chain Link Fence Installation
As a business owner, security is a leading priority. So when you're looking to enhance the protection and security of your Palm Beach County, FL business with a durable fencing installation that offers unbeatable performance at an affordable price, look no further than Fencing South Florida's commercial chain link fence installation services.
Build Your Own Customized Fencing Quote Online in Only a Few Minutes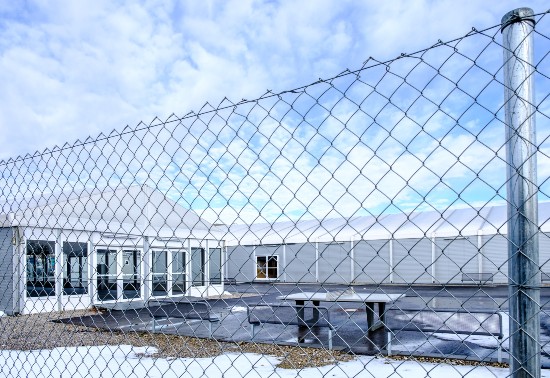 Why Choose a Commercial Chain Link Fence
Commercial chain link fence installations are a popular choice for businesses looking to increase the security and protection of their commercial property with a cost-effective solution. A commercial chain link fence can be customized to suit various requirements and preferences and offers a prompt installation time for fast results.
Benefits of a Commercial Chain Link Fence
Although a commercial chain link fence is not the first thing that comes to mind when we consider stylish fencing solutions, it's durable, reliable, and gets the job done. Some of the benefits of a chain link fence include:
Cost-effective
Low-maintenance
Prompt installation
Enhanced safety and security
Customization options available for additional style and privacy preferences
Commercial Chain Link Fence Applications
Commercial Chain link fence installation can satisfy an array of fencing application demands due to their exceptional durability, versatile sizing, and color selection. Some of the common applications include:
Perimeter security fencing
Enclosures and gates
Utility enclosures
Commercial gates
Sports facilities
Industrial sites
Parking lot fencing
Types of Commercial Chain Link Fences
At Fencing South Florida, we can accommodate various commercial chain link fence installation needs. We supply a range of chain link fencing types, including:
Industrial chain link fence
Temporary chain link fence
Construction chain link fence
Barbed wire chain link fence
Security chain link fence
Commercial Chain Link Fence Coating Options
Commercial chain link fence coating options include:
Galvanized steel with a zinc coating that increases its longevity and corrosion-resistance
Vinyl coating provides enhanced durability against outdoor elements and aesthetic customization options with various color choices.
Is a Chain Link Fence a Secure Choice?
Commercial chain link fences are designed for security as they are not the leading choice in terms of style. However, there are ways to further increase the security of your commercial chain link fence, including the following:
Barbed wire or razor ribbon installation
Privacy slats for increased privacy and reduced visibility
Access control features, such as gates and more
The Importance of a Durable Commercial Fence
When it comes to choosing a commercial fence, durability is high on the priority list for many reasons, including:
External threat protection, such as vandalism, trespassing, theft, and more
Privacy for your employees and visitors
Risk mitigation and safety
Deter unauthorized access
Enhance property value
Choose Fencing South Florida
For durable commercial fencing solutions that increase the security and protection of your business, choose Fencing South Florida. With over 20 years of experience and a team of reputable fencing professionals, we work with you to develop tailored chain link solutions that accommodate your unique requirements and provide quality installations using premium materials for long-lasting results.
Not only does Fencing South Florida provide industry-leading commercial chain link fence installation, but we specialize in a range of other residential and commercial fencing applications to satisfy the diverse needs of our Palm Beach County, FL community. From environmentally-friendly vinyl fencing to monkey wrench metal gates and beyond, rely on Fencing South Florida.
Testimonials
All I can say is WOW! I knew it would be a great experience when the General Manager Frank Ward came personally to give me a quote because I wanted it done quickly. Within one day, he was at my house. After speaking with Frank, he went in his car and within 15 minutes, I had a quote. It was even a bit less than others but the main reason I chose Fencing South Florida was due to the professionalism I received from day one. AMAZING! Thank you to Frank and his entire team of professionals. They are all so nice and in my 20 years in Florida, this was the best service I received! Nice job!!
I love people who are serious about there work, this company made the most back breaking work look easy and before you know it 200 ft of fence went up and my yard was mine again..... Thanks for the huge discount and the great service.
I needed some security gates badly and did not have a lot of money to spend, this company wins the prize, problem solved with a few bucks to spare, I couldn't be happier….Thanks, Dan, you the man.
Fencing South Florida did a very nice job. There were a few things that needed attention after install and they took care of what needed to be done. I would recommend this company.
My new fence is beautiful! We decided to go with white vinyl instead of wood and we are very pleased!
Schedule Your Commercial Chain Link Fence Installation Today
If you're a commercial property owner looking to solidify your business's protection and security with a durable, high-quality commercial chain link fence, Fencing South Florida is here to make it happen. Contact our friendly team of professionals today to schedule your commercial chain link fence services.
Build Your Own Customized Quote