Skip to Content
Environmentally Friendly Option
Fencing Contractor, You Can Trust in Palm Beach
Created from recycled plastics, wood chips, and sawdust, composite fences are one of the most environmentally-friendly fencing options on the market. Composite fencing combines vinyl fencing's resistance to insects and rots with the beauty of wood that is free of toxic additives and chemicals. Dense and strong, synthetic fences can withstand the elements – even winds of up to 100 miles per hour – for years. While the material costs are slightly more than wood, installation costs are the same or lower if using pre-fab sheets—and maintenance costs are much lower. The only maintenance includes an occasional hose down; no annual painting or staining is needed.
Build Your Own Customized Fencing Quote Online in Only a Few Minutes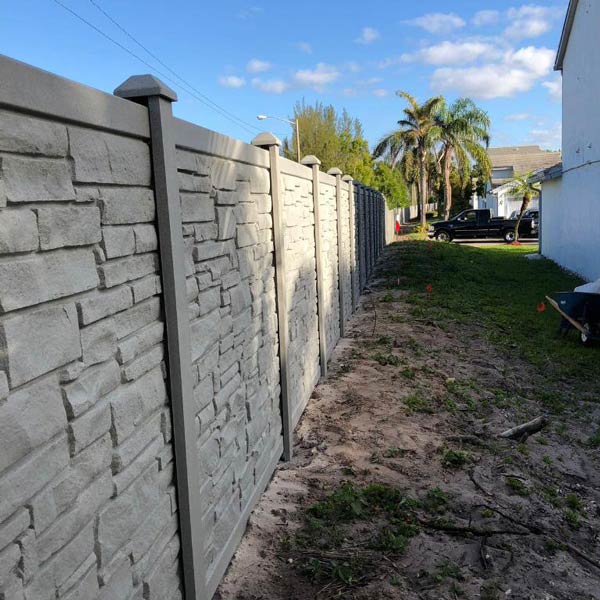 Any Style
Composite fences come in a variety of styles, patterns, and colors that mimic the look and feel of wood without the ongoing labor. Synthetic fences allow for more customization than vinyl fencing, so you can guarantee your fence is as unique as the property it protects.
Testimonials
I used to own a fence company in New York and now I retired and living in sunny south Florida. I had this company install a fence for me and start to finish they did a top notch job. I would recommend them hands down. Great job. Thank you from a tough critic.
You can use me as a reference any time, I wish I have found your company sooner, it would have saved me a lot of time and aggravation shopping for the right contractor and the right price.
I love people who are serious about there work, this company made the most back breaking work look easy and before you know it 200 ft of fence went up and my yard was mine again..... Thanks for the huge discount and the great service.
My new fence is beautiful! We decided to go with white vinyl instead of wood and we are very pleased!
I have a stress free experience with this company. They are great people to work with. The installers are wonderful, friendly, clean workers. The fence is beautiful, and the guys clean up everything when finish. I have only good things to say about this company.
Long-Term Value
Composite fencing has a longer lifespan than wood and requires far less labor and financial maintenance over time. Composite is not only a sturdy and strong option but also a smart investment for your property. Because it helps lower your carbon footprint by using recycled materials, you're also investing in the environment. At the end of its life, composite fence systems can be recycled again.
Contact us to get your synthetic fencing quote today at 561-855-4255!
Build Your Own Customized Quote