Skip to Content
Trex Fence in Palm Beach County, FL
The Best Fencing Services in South Florida
At Fencing South Florida, we provide high-quality fencing services at an incredibly affordable price. For the past two decades, our family-owned business has mastered our comprehensive Palm Beach County, FL fencing services including installation, maintenance, and design. Whether you want a wood fence, PVC fence, cement fence, chain link fence, or a Trex fence, our team can satisfy your needs.
Build Your Own Customized Fencing Quote Online in Only a Few Minutes
About Our Trex Fences
Our Trex fences are a very popular option because of their elegant look and security features. Trex fences offer the combined benefits of wooden and vinyl fences. They are a gorgeous and functional addition to any property with their unique board-on-board design.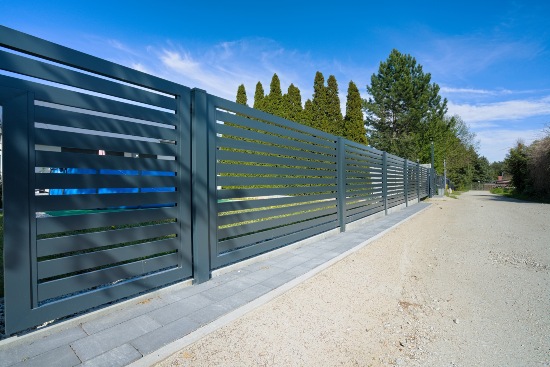 Trex Fence Advantage
Both wood and vinyl fences have their own unique styles, safety features, weather-resistance, and durability. Trex fence was created to combine the best of those characteristics into one durable and gorgeous fence material. With the natural and attractive look of wooden fences and the low-maintenance benefits of vinyl fences, you are left with the perfect fence.
Trex Fence Systems
Trex fences were first introduced to the fencing world in 2005 and quickly became widely popular. The main reason people buy a fence is for privacy and security, so when the Trex fence came to market with its complete privacy and extensive security features, it was immediately a favorite in the community.
Complete privacy and security were achieved through several crucial factors, including:
Material: Combining the sturdiness of wood with the durability of vinyl, Trex is made of a wood-plastic composite (WPC). This creates a sturdy thick wall that resists weather damage and increases security.
Installation: Trex fences are so sturdy that they don't need reinforcements. They were designed so that when the Trex fence panels are installed, the pickets are sunk into a concrete footer. After it sets, it's good to go. There's no need for extra reinforcements, except on the Trex fence gate and any fences taller than eight feet.
Design: Trex fences take incredible function and intersect it with flawless design. With caps, posts, pickets, and gates all matching with a natural wood-like finish, Trex fences are a gorgeous addition to any home or business. Additionally, you can customize the finish to match your home.
Durability: Each part and feature of Trex fences is designed to increase the durability and strength of the fence. The bottom rail is supported with an aluminum rail, which is then covered with the same composite finish as the rest of the fence for aesthetic purposes. The pickets also have aluminum reinforcements that interlock with the bottom rail, adding additional strength and durability.
Benefits of a Trex Fence
As you can imagine, Trex fences have numerous benefits as they were specifically designed to combine the benefits of wood and vinyl fences. Every aspect of Trex fences was designed for maximum security, privacy, and durability. Some of our favorite benefits include:
Durability: Trex is made of a durable and dense composite. This means that insects can't destroy it. The dimensions of the fence combined with the dense composite also make it so that Trex fences are resistant against damage from high winds, humidity, and other weather damage.
Unique Design: Trex fences have a unique look and design unlike any other fence on the market. The interlocking pickets create depth to your fence and the natural appearance adds a touch of class to your landscaping. Sometimes they're called Trex horizontal fences because of an additional feature. Their bottom and top rails frame the Trex design, creating a horizontal look as well as the more traditional vertical design.
Environmentally Friendly: Trex fences are incredibly friendly for the environment and are created from 95% recycled content. Especially compared to other fencing options, the Trex fences stand out as exceptional for the environment.
Complete Privacy: Trex fences are designed with a board-to-board design to give you complete privacy. There are no gaps for neighbors and passersby to look through because of the interlocking Trex pickets. These Trex picket fences offer you peace of mind. Whether you install a Trex fence around your backyard, business, or pool, you can enjoy complete privacy.
Neighbor-Friendly: Many fences have one presentable side and one side where the hardware shows. Not Trex fences! The interlocking pickets create virtually symmetrical sides so that your neighbors can enjoy the classy look of Trex fences. They won't be complaining about your fence being an eye sore anymore.
Trex Fence Care
While Trex fences are designed to last, our team at Fencing South Florida will provide you with a list of tips to best care for your fence so that it lasts for even longer. We suggest:
Wash off dirt and debris with water and a mild soap. Other cleaning products can be used, but we suggest testing the product on a hidden or inconspicuous area before using it on the entire fence.
Do not paint Trex fences.
Avoid using sunscreen or bug spray near the fence, as it can cause discoloration.
Be careful of touching or leaning on the fence in the heat if your fence is a darker color, as these finishes can absorb heat.
Testimonials
All I can say is WOW! I knew it would be a great experience when the General Manager Frank Ward came personally to give me a quote because I wanted it done quickly. Within one day, he was at my house. After speaking with Frank, he went in his car and within 15 minutes, I had a quote. It was even a bit less than others but the main reason I chose Fencing South Florida was due to the professionalism I received from day one. AMAZING! Thank you to Frank and his entire team of professionals. They are all so nice and in my 20 years in Florida, this was the best service I received! Nice job!!
I love people who are serious about there work, this company made the most back breaking work look easy and before you know it 200 ft of fence went up and my yard was mine again..... Thanks for the huge discount and the great service.
I needed some security gates badly and did not have a lot of money to spend, this company wins the prize, problem solved with a few bucks to spare, I couldn't be happier….Thanks, Dan, you the man.
Fencing South Florida did a very nice job. There were a few things that needed attention after install and they took care of what needed to be done. I would recommend this company.
My new fence is beautiful! We decided to go with white vinyl instead of wood and we are very pleased!
Why Choose Fencing South Florida?
By choosing our team, you are guaranteed to receive fencing services that exceed your expectations. If you want high-quality affordable services for your Trex fence needs, choose our team that has over 20 years of experience. In addition to Trex fences, we also provide installation and maintenance services for many other fence types, including:
We provide installation services as well as maintenance for these fences and more! For more information about our services, you can contact the team here at Fencing South Florida today.
Build Your Own Customized Quote