Skip to Content
Wooden Fencing in Palm Beach
Fencing Built to Last
All our wood fencing products are designed with both style and functionality in mind. Palm Beach fencing company builds them to not only meet but exceed your local county code while ensuring they are built to last. Our sturdy gates made of steel frames ensure you can enjoy a durable wood fence for years to come. Do you want to build a fence in an area with obstructions and limited building space? Not a problem! We carry pre-assembled panels to make it easier for you.
Build Your Own Customized Fencing Quote Online in Only a Few Minutes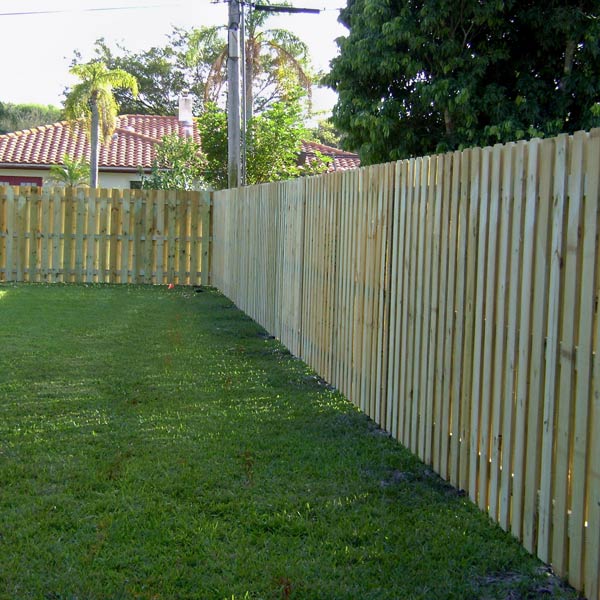 Our Wood Fencing Products Are Available in a Variety of Styles Including:
Vertical shadowbox
Board on board
Stockade
Open picket
Scallop
Straight
Are you in Broward County or Palm Beach County and are looking for wood fencing products and installation? Call Fencing South Florida at 561-282-1523 to schedule your free estimate today!
Testimonials
From getting an estimate (for one side) to installation day was very seamless and on time. The existing house had the front fence already and on the two other sides, those neighbors had done theirs. I had another company did an estimate but Fencing South FL had the lowest price (a difference of at least $300) so it was obvious that i went with this company. The two-men installation crew was on time and did a fantastic job. Our neighbor had pitched in to help clear all of the trees between our property line with their heavy machinery equipment and the fence was pretty straight forward work. They finished the 213 feet of fence like within 5 hrs. I will probably use this company again for the other two sides should the other neighbor side fences have issue. Great Job Fencing South Florida! I am very satisfied with your crew work.
We shopped everywhere and got the nicest PVC fence for 400 less than our lowest estimate, and the process was super smooth.
Hands down the best price and service, I couldn't believe it, people who actually show up when they say their going to.
What a class act. These guys built me a custom outdoor shower, in a colored material that matched my house for $1100, $350 less than our lowest estimate, and they even built me a custom shelf for the soap and shampoo out of some left over pieces at no extra charge.
I couldn't believe the owner stopped by the job to check on things, we only purchased 13 feet of fence and a gate, you just don't see that anymore…. PS Your installed Smokey was such a gentleman, Thanks again for a job well done.
Build Your Own Customized Quote