Skip to Content
Wooden Fencing in Palm Beach
Beautiful & Durable Wood Fencing for Installation
Fencing South Florida is a trusted premier installer and product provider in the area because we specialize in fencing built to last in Palm Beach County, FL. Our wood fencing options include a broad range of types and styles for residential and commercial use, and we design our fencing with style and functionality at the forefront of our concerns. We build our wood fencing using sturdy steel frames to ensure it lasts for years to come while exceeding your local county code. Properties with limited building space and obstructions are not a problem since we have pre-assembled panels ready for easier installation. Let our top-quality products make work easier with impressive results on your finished wood fencing installation.
Build Your Own Customized Fencing Quote Online in Only a Few Minutes
Types of Wood Fencing for Your Home or Business
As a seasoned wood fencing company, we strive to offer a wide assortment of fencing options to suit our customers' styles and needs. You can find wood panel fencing, customized designs, and many choices in wood fencing types, including the following:
Micropro™ Fencing – If you want wood's natural beauty while reducing upkeep demands, Micropro™ offers long life and low maintenance, and it contains stabilizers for less weathering and minimized shrinking and swelling.
Commercial Wood Fence – Add privacy and aesthetic appeal to your commercial property with wood fencing. A rail fence gives your business a rustic look, while picket fencing works well at restaurants and retail shops.
Western Red Cedar Fencing – This fencing type is a non-pressure-treated choice with natural oils protecting the wood from moisture, decay, and insect damage. It also doesn't shrink, warp, swell, cup, or twist as much as other woods.
Classic Wood Fences – Choose the right style for your property to accentuate its appeal. We have options like picket, board-on-board, and spaced board fences.
Privacy Fencing – Keeping prying eyes off your property with a new privacy fence designed to block visibility. You can select a vertical board fence, stockade fence with pointed pickets, or top-of-the-line board and batten fence.
Wood Fencing for Larger Properties – Our selection of fences includes expansive fencing for sizable properties, including vertical and horizontal wood fencing options.
Custom Wood Fences – If you wish to design a custom wood fence, our company can incorporate different materials into innovative designs. Personalize your boards with varying widths and styles to improve your property's look and value.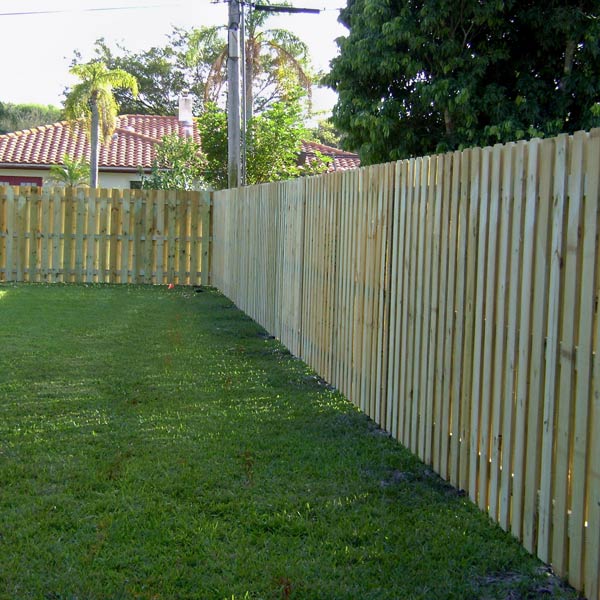 What Is the Best Wood for Fencing?
While many kinds of wood work well to build fencing that lasts for years, Fencing South Florida wants you to stay informed in which wood type is the best option. Cedarwood is ranked the highest because of its many properties, including durability and natural beauty. Cedar also contains natural oils acting as an insect deterrent. Cedar has less tendency to degrade, including warping, selling, and shrinking. All these features of cedarwood ensure your fencing will last the longest, generally between 15 and 30 years. However, some cedar fences can last up to 40 years.
Testimonials
From getting an estimate (for one side) to installation day was very seamless and on time. The existing house had the front fence already and on the two other sides, those neighbors had done theirs. I had another company did an estimate but Fencing South FL had the lowest price (a difference of at least $300) so it was obvious that i went with this company. The two-men installation crew was on time and did a fantastic job. Our neighbor had pitched in to help clear all of the trees between our property line with their heavy machinery equipment and the fence was pretty straight forward work. They finished the 213 feet of fence like within 5 hrs. I will probably use this company again for the other two sides should the other neighbor side fences have issue. Great Job Fencing South Florida! I am very satisfied with your crew work.
We shopped everywhere and got the nicest PVC fence for 400 less than our lowest estimate, and the process was super smooth.
Hands down the best price and service, I couldn't believe it, people who actually show up when they say their going to.
What a class act. These guys built me a custom outdoor shower, in a colored material that matched my house for $1100, $350 less than our lowest estimate, and they even built me a custom shelf for the soap and shampoo out of some left over pieces at no extra charge.
I couldn't believe the owner stopped by the job to check on things, we only purchased 13 feet of fence and a gate, you just don't see that anymore…. PS Your installed Smokey was such a gentleman, Thanks again for a job well done.
Contact Us to Get New Fencing in Palm Beach County, FL
Fencing South Florida is ready to provide the perfect wood fencing option for your home or business installation. Contact us today to learn more about what fencing we have to choose from and place an order for a beautiful, long-lasting fence.
Build Your Own Customized Quote