Skip to Content
Ornamental Iron Fencing in Palm Beach County, FL
About Our Ornamental Iron Fences
At Fencing South Florida, we've been providing Palm Beach County with a range of fencing services for over two decades. Our family-owned business prioritizes providing the best fencing services to our community. Our ornamental iron fences are some of the most popular fencing options in the area because of their versatility and durability. No matter what kind of property you want to install a fence around, these fences are a great option. They can also be customized to fit your property's style. Our special material is also extremely durable against weather, pests, and vandalism.
Build Your Own Customized Fencing Quote Online in Only a Few Minutes
Exquisite Iron Work
We take pride in our exquisite iron work on our ornamental iron fences. It is a very popular material used in our fences for residential, industrial, and commercial properties. To make it such a versatile fence material, we offer many styles so that property owners can find the perfect style for their property. When you need ornamental fence services, call the experts at Fencing South Florida.
Wrought Iron Fences in South Florida
Ornamental wrought iron fences are so popular for all property types because of the durability and aesthetic benefits. Wrought iron is a great choice for property owners because it is a strong material that will last for years to come, which also serves as a beautiful addition to any property. When you choose Fencing South Florida as your ornamental iron fences supplier, you are guaranteed to get a fence that is:
Valuable: Fences in general tend to increase the value of your property, but ornamental iron fences are great at adding curb appeal and making the property safer.
Versatile: Our iron fences serve many purposes and can be used on any property: residential, industrial, or commercial. Even residential ornamental iron fences can be used for a variety of purposes—from defining a property line, surrounding your pool, increasing the privacy of your home, and keeping pests out of your garden. The options are endless.
Durable: Iron is one of the strongest metals. It will stand against storms, humidity, pests, vandalism and many more threats. Additionally, it requires very little repair and maintenance.
Aesthetically appealing: Ornamental wrought iron fences are especially popular for their aesthetic appearance. There are many options with styles and finishes that you can request out of your ornamental fences.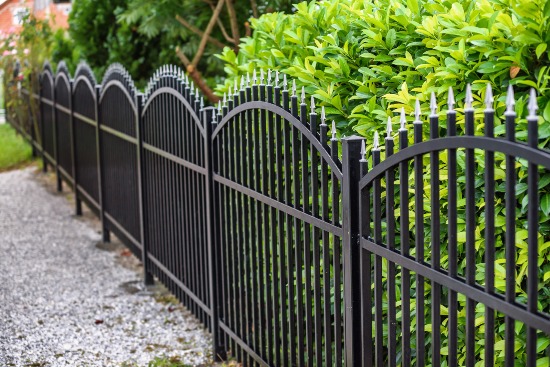 Manufactured with Galvalume
At Fencing South Florida, we prioritize providing our clients with fences that will last and will need minimum repairs and maintenance. That's why we choose ornamental iron fence manufacturers that use Galvalume tubing. All our ornamental iron fences are constructed with Galvalume tubing, which is a steel sheet coated with an alloy that consists of 55% aluminum, 43.4% zinc, and 1.6% silicon.
By applying the Galvalume process, we guarantee that our fences are stronger and more durable than other companies that don't use the Galvalume process. These fences have up to six times the service life of other fences.
Ornamental Iron Fence Installation
Our experts at Fencing South Florida are highly experienced when it comes to installing many types of gates and fences, including ornamental iron fences. Whatever the circumstances or environment where we are installing the fence, we do a professional job. There are many situations in which an ornamental iron fence installation could be an excellent choice including:
Residential property
Pools
Deck areas
Apartment complexes
Parking lots
Municipal buildings
Cemeteries
Churches
Schools
Industrial complexes
You can trust our team of experts to install your ornamental iron fences and gates to improve the security and curb appeal of your property. When you contact our team for our services, we will sit down with you to understand your vision for your fencing needs. Whether you want a more traditional style of ornamental iron fence or you want a more ornamental design, our professionals will work with you to make your vision come to life.
In addition to the style of your fence, you can also choose from six standard colors of wrought iron:
Semi-gloss black
High-gloss black
Brown
Forest green
Green
White
No matter where you want your ornamental fence installed, our team will ensure that your gate meets your needs aesthetically and functionally.
Testimonials
All I can say is WOW! I knew it would be a great experience when the General Manager Frank Ward came personally to give me a quote because I wanted it done quickly. Within one day, he was at my house. After speaking with Frank, he went in his car and within 15 minutes, I had a quote. It was even a bit less than others but the main reason I chose Fencing South Florida was due to the professionalism I received from day one. AMAZING! Thank you to Frank and his entire team of professionals. They are all so nice and in my 20 years in Florida, this was the best service I received! Nice job!!
I love people who are serious about there work, this company made the most back breaking work look easy and before you know it 200 ft of fence went up and my yard was mine again..... Thanks for the huge discount and the great service.
I needed some security gates badly and did not have a lot of money to spend, this company wins the prize, problem solved with a few bucks to spare, I couldn't be happier….Thanks, Dan, you the man.
Fencing South Florida did a very nice job. There were a few things that needed attention after install and they took care of what needed to be done. I would recommend this company.
My new fence is beautiful! We decided to go with white vinyl instead of wood and we are very pleased!
Why Choose Fencing South Florida?
When you choose our team at Fencing South Florida, you are guaranteed to have a fencing provider that prioritizes customer satisfaction. We ensure this by providing quality services for an affordable price. For ornamental iron fencing services, choose a company that has mastered this industry. Each of our professionals is highly trained and is passionate about providing these services to you. In addition to ornamental iron fencing services, we provide services for the following types of fences:
Whether you need fencing services for your residential property or your commercial property, we will provide the best services in South Florida. Please contact our team at Fencing South Florida if you need any of these services or want more information.
Build Your Own Customized Quote