Skip to Content
Monkey Wrench Metal Design in Palm Beach County, FL
View Our Portfolio of Work
Artistic Metal Designs From Fencing South Florida
We have a ten thousand square foot welding shop and fabrication plant equipped with 2 welding stations and 2 5 x 10 CNC plasma torch machines. We work in marine-grade aluminum, hot rolled steel, and copper in 6 different gauge metals depending on the application. You can choose to leave your purchase raw or the metals natural color, we can powder coat your creation any color you want or you can choose to have one of our staff artists do a custom anodized paint job for you. Just give us the theme you are going for or colors you want that match your decor and let us do what we do.
All of our products can be placed in and outdoors. We can just about cut anything you can think of out of metal. The possibilities are truly endless.
We also have the capability to etch metal as well without piercing through. This technique makes great custom trophies. Perhaps you want that magic moment photo-etched and framed next to your trophy such as hunting, fishing photos. We design commissioned war memorials, promotion, and retirement plaques for all branches of the military and police department.
Metal Designs for Your Home
Precision Metal Arts
Custom metal gates
Monogrammed gates
Custom gate art
Custom art deco railings
Nautical railings
Outdoor wall trellis cutouts
Window accents
Garden trellises
Garden art
Contemporary Wall art
Nautical wall art
Monogrammed door plaques and gate plaques
Custom mailbox posts and numbers
Custom interior railing and wall accents
Metal Designs for Your Business
Hotel and casino wall art
Hotel, office, and hospital room numbers
Professional office door business sign
Restaurant art
Religious art for churches and synagogues
Business theme art tiki, nautical, rustic, farm, auto or hot rod shop, bar art, beach theme, coffee shops, diners, gift shops
Outdoor Business signage
Lightboxes
Plaques
Team signs
Sorority and fraternity signage
Unique theme-based trophies and plaques:
fishing, golf tournaments, little league, girl scouts, wrestling, basketball, football, hockey cheerleading, retirement, promotion, graduation, milestone birthday, military boot camp, police academy, Quantico boot, racing, horse racing, polo tournaments, county fair, bass fishing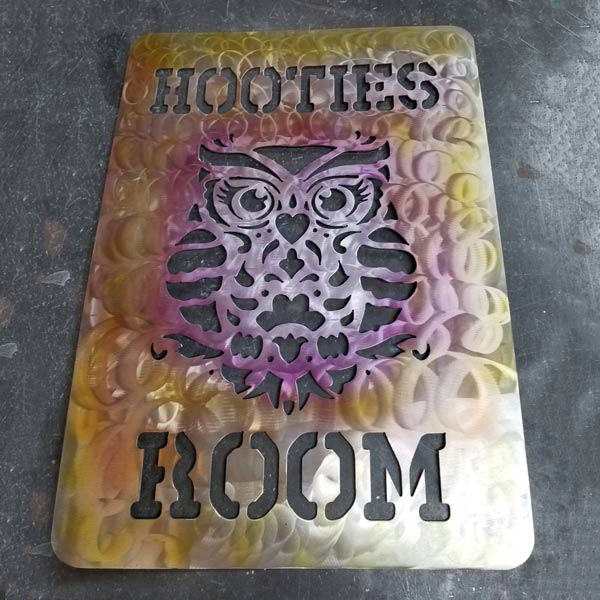 Customized Gifts
Great customized gifts for the people who have everything.
Custom wedding party gifts
Signs for all holidays, Valentine's, St. Patrick's, Easter, the 4th, Thanksgiving, Hanukkah, Christmas
Custom car grills
Outdoor Fireplaces
Motorcycle parts and art
Custom brackets for any application
Shipping Options
We can ship directly to the lower 48 states in the U.S. Shipping charges vary depending on the size and weight of the package. A good portion of our art fits perfectly in a pizza box – we promise to eat the pizza first before we ship it to you.
For signage, plaques, trophies and most wall art expect approximately a 2-week turnaround.
And for a custom fence, gates, railing, and balconies expect a 6 to 8-week turnaround to allow time for field measuring, design, fabrication, sanding, and powder coating. This is not including the time your local building department will take to issues us a permit. But for material only orders 6 to 8 weeks.
Retail Options
Not everything is custom: Retailers we have a wholesale division of stock cutouts and 3D art.
We supply gift shops, farm stands, nurseries, dive shop, consignments shops, coffee shops, craft stores, hobby shops, flea market vendors, craft fair vendors. Our signage and welded lines sell out in every store we're in. We sell bulk artwork to many retailers.
Tight on cash for inventory. We have a consignment program available if your business qualifies.
Must have a retail location for 5 years plus. Not available to outdoor market vendors.
To set up a site visit to your business to show you some of our best sellers, contact fencing contractor Fencing South Florida at 561-855-4255.
Build Your Own Customized Quote