Skip to Content
Custom Fences in Palm Beach County, FL
Build a Unique Fencing Solution at Your Property
Fencing South Florida is an affordable fencing company that carries a broad range of fencing options to suit our customers' budgets and security needs. However, you might value a more distinctive look or need additional details to ensure your new fencing has what you need to safeguard your property in Palm Beach County, FL. Our custom fencing is an outstanding way to personalize your new fence's design, construction, and installation. We discuss the specifics of your priorities and preferences to understand your style, utility, security, and price needs. Custom fencing is a unique fencing design that incorporates your ideas and needs, including materials and style preferences. Consider getting a custom-made fence for its better durability, aesthetics matching your home's or business's design, and longer lifespan.
Build Your Own Customized Fencing Quote Online in Only a Few Minutes
How to Frame & Build a Custom Fence
We design your new custom fence using a sturdy metal frame to ensure whatever material you choose has a strong foundation. Our frame uses a U-channel frame between each metal fence post to hold your infill materials in place, and side channels mount to each post. Assembling the frame is easy and takes less time than standard custom fences. After the frame is built, you can construct the fence by placing the infill materials in the channels between the posts. Your slat placement is at your discretion. You may put gaps between the slats to provide visibility or place them tightly against each other for complete privacy.
Material Options for Fencing South Florida's Custom Fencing
Material options range from classic wood to durable metal to build your custom fencing. You can select custom wood or vinyl fencing to improve your privacy with a cost-effective material or a naturally sturdy and attractive material. If you want wood for your fence's design, we have various wood types for you to consider, including pest-resistant woods like western red cedar, redwood, and cypress. Other materials we have available include composite, PVC, and wire. Our team can explain all our material choices to you when you contact us.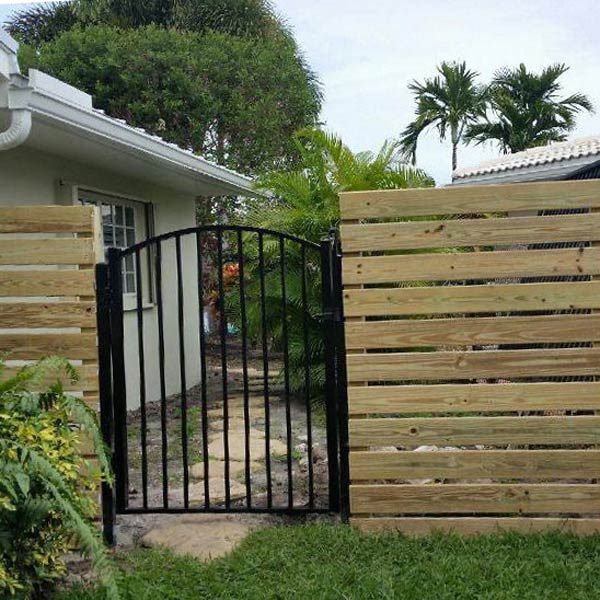 Benefits of Building a Custom-Made Fence
Building new, custom-made fencing at your home or business comes with various advantages over other fencing options. Fencing South Florida has described several benefits of our custom fencing:
You can use a decorative fence to showcase a business or residence.
Your street address can be embedded into a permanent fence so that visitors can find your home or business more easily.
Permanently place your business name or logo on the fence.
Mark your subdivision's, public facility's, or apartment complex's boundaries using a customized aluminum or vinyl fence.
Use color combinations on your new fence to match your home's or building's trim.
Enjoy our fencing's unique features and impressive value retention.
Testimonials
Fencing South Florida did a very nice job. There were a few things that needed attention after install and they took care of what needed to be done. I would recommend this company.
My new fence is beautiful! We decided to go with white vinyl instead of wood and we are very pleased!
2 gentlemen sent were great. removed and replace 35 yr old fence in about 6 hrs. cleaned up and hauled away the old fence. I will even use them again at my new house.
I have a stress free experience with this company. They are great people to work with. The installers are wonderful, friendly, clean workers. The fence is beautiful, and the guys clean up everything when finish. I have only good things to say about this company.
Responsive, professional, prompt, didn't have to lift a finger.....love that. Work was done exactly as I requested, and the did beautiful work. Great Job!
Proudly Serving Homes & Businesses in Palm Beach County, FL
Fencing South Florida values your personal style and preferences when you come to us to design and install a new custom fence at your home or business. Contact us today to work with our team on a distinct fencing design and start the process.
Build Your Own Customized Quote