Skip to Content
Fencing Products & Services in Palm Beach County
A Fencing Company With Appealing Fencing Solutions
Whether you value aesthetics, durability, or cost when installing a fence in Palm Beach County, FL, Fencing South Florida has a wide selection of fencing options for you to consider. Our choices include various styles, materials, and prices to ensure you find fencing that suits your needs and fits your budget. Let our friendly and knowledgeable staff work with you to narrow down which fencing type you want at your home or business.
Build Your Own Customized Fencing Quote Online in Only a Few Minutes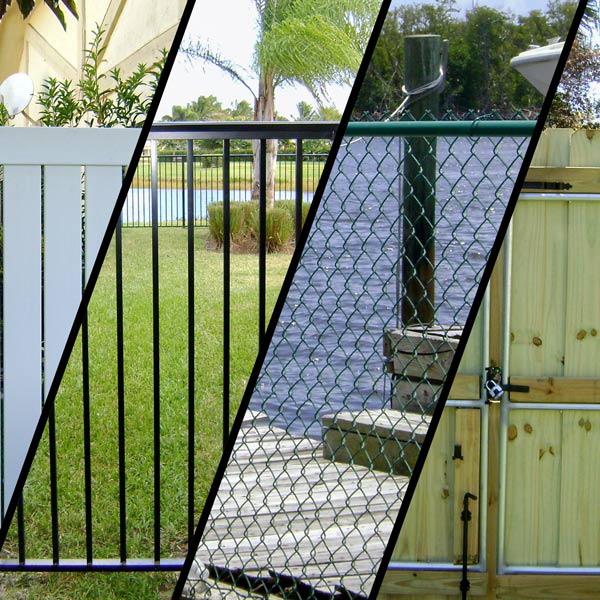 Popular Types of Fencing in South Florida
Fencing South Florida makes quality fencing affordable with appealing prices on a wide array of options. You can find inexpensive or cheap fencing without sacrificing durability or aesthetics. We have a comprehensive collection of fencing types covering virtually any need you have, whether you require privacy, security, or a beautiful fence to increase your home's appeal and value. You can choose from any of the following examples:
Aluminum Fencing
PVC Fencing
Wood Fencing
Vinyl Fencing
Chain Link Fencing
Composite Fencing
Concrete Fencing
Custom Fencing
Pool Fencing
Security Privacy Fences
Testimonials
Fencing South Florida did a very nice job. There were a few things that needed attention after install and they took care of what needed to be done. I would recommend this company.
Hands down the best price and service, I couldn't believe it, people who actually show up when they say their going to.
You can use me as a reference any time, I wish I have found your company sooner, it would have saved me a lot of time and aggravation shopping for the right contractor and the right price.
I needed some security gates badly and did not have a lot of money to spend, this company wins the prize, problem solved with a few bucks to spare, I couldn't be happier….Thanks, Dan, you the man.
My new fence is beautiful! We decided to go with white vinyl instead of wood and we are very pleased!
What Other Fencing Options Are There?
If a standard fence style does not match your taste or priorities, other fence styles include various materials and designs with distinctive qualities. For example, a masonry-style fence may incorporate stones or bricks and mortar to give your property a classic elegance. Fencing is not your only option to line a perimeter. You can try putting hedges or vertical gardens around your property or installing corrugated metal panels. When a quality, cost-effective fence is your best solution, and you're searching for fencing companies in the area, Fencing South Florida provides exceptional products and services.
What to Consider When Choosing a Fence
Before you select any fence to install at your home or business, try to look past your selection's aesthetic, cost, durability, or maintenance qualities. The first thing you should consider is why you need to install a fence. If you need privacy in your backyard, you want styles and materials that reduce or eliminate visibility to outsiders, such as PVC or wood. If you desire to elevate your property's appearance, a wrought iron or picket fence can enhance your curb appeal.
Various Fence Parts You Should Know
Part of choosing and installing a new fence is understanding what components it will include. Fencing South Florida has described some standard parts to get you acquainted with a fence's construction.
Fence Post – This is the foundation fence piece holding everything in place. You should always install a fence post into the ground securely.
Fence Picket – A picket is the main part of a fence, creating privacy. You can space out pickets for visibility or place them tightly next to each other for privacy.
Fence Post Cap – You place this covering piece on top of the post. The cap looks decorative but also protects the post from the elements so that it lasts longer.
Fence Gate – This part gives you access through a fence using hinges and hardware. Gates can be decorative while securely locking to keep unwanted visitors out and your children and pets in.
Reasons to Choose Fencing South Florida
Fencing South Florida is an ideal choice when you need a fencing company for many reasons. We value style and durability with our fences' design and construction, and our commitment to affordable quality and variety ensures our customers find a fencing type and material that suits their needs and budget. Our team has served the area's fencing sales and installation needs for years, and we put each customer's satisfaction as our top priority.
Find the Perfect Fence in Palm Beach County, FL
If you need a high-quality fence at an appealing price, Fencing South Florida has an extensive selection of materials and styles for you to consider without cost markups breaking your budget. Contact us today to discuss your fencing needs with a staff member, and we will find a solution that is right for you.
Build Your Own Customized Quote