Skip to Content
Concrete Fences in Palm Beach County, FL
Fencing South Florida's Concrete Fencing
Precast concrete panels are a practical and beautiful way to protect your property. Fencing South Florida has the right concrete fence option in Palm Beach County, FL, to fit your needs and keep your property secure. Concrete fences are an excellent fencing option for many people because they have low installation and maintenance costs, are high quality, provide long-lasting durability, and come in a range of finishes. For more than two decades, Fencing South Florida has provided a wide variety of superior fencing options at affordable rates. Contact us today to learn more about concrete fences.
Build Your Own Customized Fencing Quote Online in Only a Few Minutes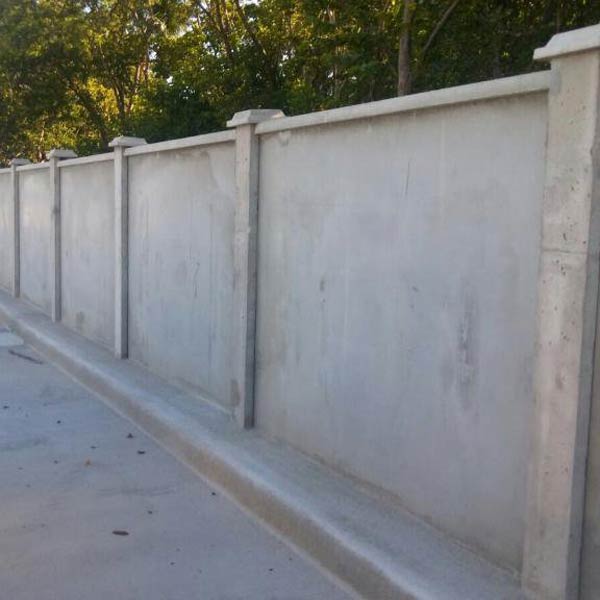 What Is a Concrete Fence?
Concrete fence systems are often reinforced with steel for additional strength and security. Precast concrete is manufactured and cured in a factory under controlled conditions, which means walls and panels are formed to exact dimensions. Concrete fence systems are solid and durable, even under the harshest conditions.
Precast Concrete Fencing Installation
It's important to remember concrete fencing is never a weekend DIY project. It's critical to call in the professionals to install your precast concrete slabs for fencing that includes:
Planning – Our professionals will measure the area for the fence and obtain the required permits.
Gravel Base and Walls – We'll establish your gravel base, typically planning to use 8-12 inches of compacted gravel base. We will erect the first wall and secure it with braces. We remove these braces once the second wall is erected.
Foundation & Backfill– The foundation for the fence goes into the center of the walls. We use backfill to help with water drainage and additional support.
Testimonials
I met w/ 4 Fence companies and chose Fencing South Florida and was not disappointed at all. The process from start to finish w/ permitting took 4 weeks and once the permit was approved the crew was at my home within 2 days. The Fence was approx 275.ft and was installed within 6 hours and was done very professionally and the crew were extremely careful and meticulous w/ the install.I would highly recommend this company and I dealt w/ Mariano and Frank the crew chief.
We shopped everywhere and got the nicest PVC fence for 400 less than our lowest estimate, and the process was super smooth.
I couldn't believe the owner stopped by the job to check on things, we only purchased 13 feet of fence and a gate, you just don't see that anymore…. PS Your installed Smokey was such a gentleman, Thanks again for a job well done.
My new fence is beautiful! We decided to go with white vinyl instead of wood and we are very pleased!
2 gentlemen sent were great. removed and replace 35 yr old fence in about 6 hrs. cleaned up and hauled away the old fence. I will even use them again at my new house.
Benefits of Concrete Fencing
Concrete fencing offers many benefits, including:
Boosts Curb Appeal –Concrete walls are offered in unique designs with many different decorative aspects.
Resilient – Concrete is durable and resistant to harsh weather.
Low Maintenance –Concrete gets stronger over time without upkeep or worry of deterioration.
Energy-Efficient –Concrete has an amazing ability to store energy, helping to manage heating and cooling costs.
Emission-Free –Concrete walls don't emit any toxic elements that are dangerous to the environment.
Insulation – Concrete fences insulate against noise and act as a windbreaker.
Why Choose Fencing South Florida?
Fencing South Florida is passionate about finding the best fence to fit your needs. We offer superior-quality fencing products and installation through our own factory. We manufacture all products in-house, ensuring your fencing products exceed expectations and meet code. Our team is happy to educate you about concrete fences and our other types of fencing, including composite fencing and aluminum fencing. As a top-rated company on Home Advisor, you know you're in good hands with our concrete fencing contractors.
Contact Fencing South Florida
Fencing South Florida will help you determine if concrete fencing is the best fence for you. Its durability and security combine to make it one of the best fencing choices on the market. We have a large selection of fencing materials and styles to ensure you find the best one for your needs. We're proud to say that we guarantee to beat any estimate you have on any standard fencing material. Contact us today to see what we can do for you!
Build Your Own Customized Quote