Skip to Content
Commercial Aluminum Fencing in Palm Beach County, FL
The Best Commercial Aluminum Fencing Company
At Fencing South Florida, we are passionate about providing our community in Palm Beach County with affordable and high-quality fencing products and services. For the past 20 years, our family-owned business has made it our priority to provide our community with the best fencing services available. Whether you're looking for commercial fencing services or residential services, our team of experts can help you.
If you want to install a commercial aluminum fence at your commercial property in South Florida, there is no better place to go than Fencing South Florida. Our commercial aluminum fences are installed at a competitive price and offer an array of benefits.
Build Your Own Customized Fencing Quote Online in Only a Few Minutes
Installation of Commercial and Industrial Fencing
Aluminum fencing has many uses across many types of property. When aluminum fences are chosen for your commercial or industrial property, you get many benefits. Residential and commercial aluminum fences are very similar. There's one main difference: commercial grade aluminum fences are stronger and more durable. Our aluminum fences are extremely durable, low-maintenance and aesthetically appealing.
How Do I Choose the Right Commercial Fence for My Property?
With so many materials, styles, finishes, sizes, and maintenance needs, it can be very overwhelming to know which commercial fence will best fit your property. That's why we're here. Our team at Fencing South Florida has over two decades of experience pairing commercial properties and businesses with their best fence options. Some of the most important factors to consider include:
Options
Before you can decide what type of commercial fence best fits your needs, you need to educate yourself on the fencing options that are at your disposal. There are many fence designs including aluminum ornamental fencing, chain link fencing, wooden fencing, vinyl fencing, concrete fencing, and more.
Security Needs
Different industries need different security measures. Fences are a wonderful security measure, but the type of fence you choose can further increase your security. If your needs are temporary or low security is needed, we can provide construction fences that are temporary. If your security needs are higher, we suggest our more durable fences such as our aluminum commercial fence, as it's solid and deters intruders. If security is a concern of yours, let us know and we can provide additional security measures such as taller commercial aluminum fence panels and thicker materials and coating.
Aesthetic Value
You'll also want to consider the level of aesthetic value you want your fence to add to your property. While security is a big concern when it comes to commercial fencing, aesthetic appeal is also crucial, as it can attract customers to your business and create an appealing environment for your employees to work.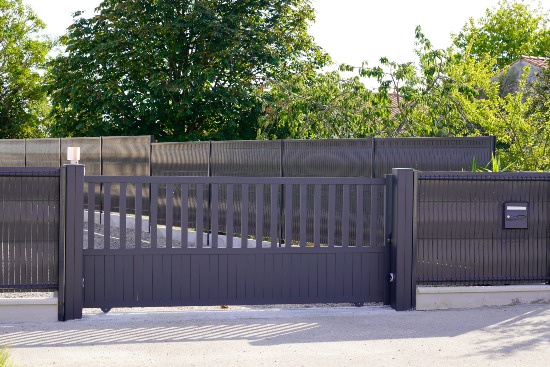 What Type of Commercial Fence Is Best for Security?
When getting a commercial fence for security benefits, you'll want to look for durable, thick materials that aren't susceptible to damage from weather or vandalism. For this reason, materials such as steel, ornamental wrought iron, aluminum, and galvanized iron are all great options for your security. These materials are extremely hard to break into, and they have small slats to prevent people from sneaking through. Aluminum fences are made for security reasons, and they can help protect and secure your commercial property.
The Benefits of Commercial Fencing
There are many benefits of installing a commercial fence around your property. These benefits include:
Boundaries: A fence can be a great way to properly and clearly divide land, especially if your business shares land with or is next to another company.
Privacy: Enhancing privacy at your commercial property could be a great benefit depending on your business. We have many privacy fences that provide 100% privacy as well as other options that provide partial privacy.
Security: One of the biggest threats to some businesses are vandals, intruders, or burglars. A solid commercial aluminum fence can deter or completely prevent these criminals from targeting your property.
Property value: If you eventually sell your property, a fence can be a great way to immediately increase the property value.
Curb appeal: Fences are a great way to enhance the curb appeal of your property. They can be used to hide unsightly things such as large equipment, dumpsters, or other eye sores.
Testimonials
All I can say is WOW! I knew it would be a great experience when the General Manager Frank Ward came personally to give me a quote because I wanted it done quickly. Within one day, he was at my house. After speaking with Frank, he went in his car and within 15 minutes, I had a quote. It was even a bit less than others but the main reason I chose Fencing South Florida was due to the professionalism I received from day one. AMAZING! Thank you to Frank and his entire team of professionals. They are all so nice and in my 20 years in Florida, this was the best service I received! Nice job!!
I love people who are serious about there work, this company made the most back breaking work look easy and before you know it 200 ft of fence went up and my yard was mine again..... Thanks for the huge discount and the great service.
I needed some security gates badly and did not have a lot of money to spend, this company wins the prize, problem solved with a few bucks to spare, I couldn't be happier….Thanks, Dan, you the man.
Fencing South Florida did a very nice job. There were a few things that needed attention after install and they took care of what needed to be done. I would recommend this company.
My new fence is beautiful! We decided to go with white vinyl instead of wood and we are very pleased!
Why Choose Fencing South Florida?
By choosing Fencing South Florida, you are choosing the best aluminum fencing provider in South Florida. When you choose our team, you are guaranteed a provider that will prioritize your satisfaction by providing quality services at an affordable price.
We provide the best fencing services in South Florida. For more information about our services, you can contact our team at Fencing South Florida to start the process of increasing the security of your commercial property.
Build Your Own Customized Quote