Skip to Content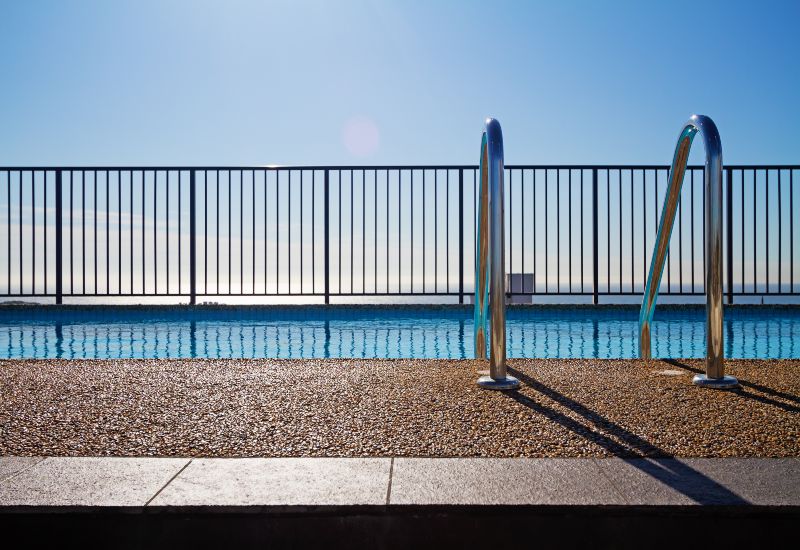 Pool Fences in Palm Beach
Installing a pool in your yard is a great way to boost family fun and increase your property value. Without the right protection, however, your pool could be vulnerable to animals, strangers, and contamination. One way to protect your investment and add a dash of elegance to your property is to install a strong and beautiful pool fence. Fencing South Florida has been building pool fences throughout the Palm Beach area for over 20 years, and we would gladly lend our talents and fencing materials to your yard.
Build Your Own Customized Fencing Quote Online in Only a Few Minutes
Benefits of a Pool Fence
Many homeowners don't think to put up a fence around their pool. However, a pool fence is a smart and useful investment. Here are just a few of the benefits.
Keep Outsiders Out
If your pool is unprotected, it's more likely that neighborhood kids will help themselves to a dip. A sturdy fence sends a clear message and is a great deterrent.
Prevent Contamination
A fence can also prevent animals from coming into your yard and contaminating your pool. The right fence can help protect your family's health.
Protect Kids & Pets
Children should only use the pool when under parental supervision. A fence can prevent children and pets from using the pool unsupervised, providing you with peace of mind.
Pool Fence Considerations
No two properties are exactly the same; you should choose your pool fence carefully. Here are a few factors to consider.
Aesthetics
Your pool fence should look like a cohesive part of your property. Consider drawing inspiration from your home's colors and architectural features.
Privacy
If privacy is important to you, you might choose a tall fence that blocks your neighbor's view. A wood fence is both elegant and private.
Climbing Deterrence
Even if you have a fence, intrepid invaders may try to hop over. A good pool fence is fairly tall, and doesn't have any footholds for would-be climbers.
Testimonials
All I can say is WOW! I knew it would be a great experience when the General Manager Frank Ward came personally to give me a quote because I wanted it done quickly. Within one day, he was at my house. After speaking with Frank, he went in his car and within 15 minutes, I had a quote. It was even a bit less than others but the main reason I chose Fencing South Florida was due to the professionalism I received from day one. AMAZING! Thank you to Frank and his entire team of professionals. They are all so nice and in my 20 years in Florida, this was the best service I received! Nice job!!
What a class act. These guys built me a custom outdoor shower, in a colored material that matched my house for $1100, $350 less than our lowest estimate, and they even built me a custom shelf for the soap and shampoo out of some left over pieces at no extra charge.
I couldn't believe the owner stopped by the job to check on things, we only purchased 13 feet of fence and a gate, you just don't see that anymore…. PS Your installed Smokey was such a gentleman, Thanks again for a job well done.
You can use me as a reference any time, I wish I have found your company sooner, it would have saved me a lot of time and aggravation shopping for the right contractor and the right price.
I needed some security gates badly and did not have a lot of money to spend, this company wins the prize, problem solved with a few bucks to spare, I couldn't be happier….Thanks, Dan, you the man.
Working with Fencing South Florida
Fencing South Florida offers wood, PVC, aluminum, and chain-link fencing. Aluminum fencing is the most popular option for Florida pools, but we'll use whatever material you think is best. We have a special factory that manufactures PVC and aluminum products, and we get our wood and chain link fences from Florida's largest manufacturer of such materials. Our manufacturing prowess and business relationships allow us to provide fencing that is much more affordable than the competition. Call our Lake Worth location at 561-855-4255 to get one step closer to an elegant new pool fence.
Build Your Own Customized Quote