Skip to Content
Designing a Chain Link Fence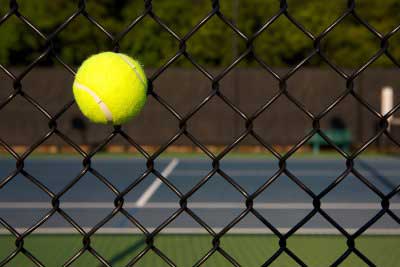 Many fences in Palm Beach are designed to provide several services at the same time, and chain-link fences are no exception. Popular in industrial and commercial fencing, chain link fences typically mark boundaries and act as security measures in order to prevent individuals from trespassing on private property or work sites. They can also be found enclosing public parks and athletic surfaces and, although they are not heralded for their aesthetic appeal, can be relatively visually pleasing. Keep reading for a handful of helpful tips on designing a chain-link fence.
Fabric
Chain link fences come with many optional design features including weatherproof mesh fabric. This fabric can enhance a chain-link fence in several different ways. It is not uncommon to see chain link fences with green mesh fabric around the perimeter of a tennis court; the fabric prevents wind from entering the tennis court and disturbing the flow of the game. This material can also make chain link fences more appropriate for residential applications by adding a sense of privacy, and the different colors they come in can block different amounts of light from passing through.
Slats
If you like the idea of a chain-link fence that can offer additional privacy as well as wind resistance but would like to take this a step further, consider fences with slats. These slats can be used in addition to or in place of mesh fabric, and they serve a similar purpose. Chain link slats support the fence and provide a solid feeling and structure, and homeowners can easily install them on their own. Slats come in a range of different colors as well as different sizes, allowing for high-quality customization in fence design.
Hue
Although traditional steel is the overwhelmingly popular choice when it comes to chain link fence styles, other colors are available as well. The vinyl coating allows for brown, green, black, or white chain link fences, while powder coating provides the opportunity for an expansive selection of colors. If you are looking to save money on your fence design, consider a steel fence with colored slats and mesh fabric.
Build Your Own Customized Quote