Skip to Content
What to Consider When Choosing a Fencing Material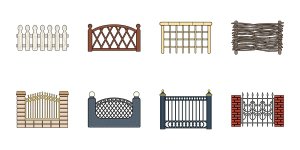 When it comes to fence installation, choosing a material that suits your needs and preferences is important for getting the most out of your investment. If you're in need of new fencing near Coral Springs, then read on for advice about what to consider when choosing a fence material.
Appearance
While just about every type of fencing material is available in a wide range of styles, each tends to have its own unique look. For example, aluminum fencing can mimic the appearance of wrought iron and give your property a classic and elegant feel. If you would like to emphasize your home's rustic charm, on the other hand, then a wooden fence may be the right option for you.
Maintenance
It's important to ask yourself how much upkeep you're willing to put toward your fence over the years to keep it looking its best and functioning as it should. Some fence materials, like PVC fencing, are low maintenance and typically require only occasional cleaning to keep them bright and shiny. Other materials, such as wood, can require a bit more upkeep, such as sanding and repainting, for them to look good and remain sturdy. Also, others can be vulnerable to rust, while aluminum fencing can last for decades without facing this issue.
Function
Finally, perhaps the most important factor to consider when choosing a material for your new fence is the structure's intended function. For example, installing a decorative aluminum fence around your property may be a bad decision if you're hoping to keep a small dog in your yard, as this type of fence material generally has several inches of space between its pickets. Instead, an aluminum fence can be a good option for families with kids who need a pool safety fence. As a final example, if you're planning to install a privacy fence, then going with materials such as wood or PVC can be a smart decision, as options like chain link and aluminum would be less effective for providing privacy. Contact us today for more.
Build Your Own Customized Quote