Skip to Content
Will a PVC Privacy Fence Require Maintenance?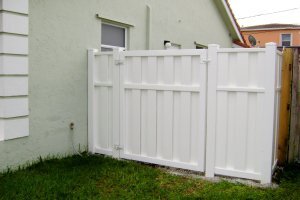 Vinyl fencing, which is also known as polyvinyl chloride (PVC) fencing, is a popular choice for individuals who want a barrier that is attractive, long-lasting, and effective. If you're considering installing a PVC privacy fence in Palm Beach County, then you may be wondering what to expect once the project is complete, especially as far as maintenance goes.
All fencing requires at least some amount of upkeep. However, one of the most appealing features of a PVC fence is that they demand minimal care and are quite easy to maintain. For example, unlike some fence materials, PVC does not require protection from rusting. Also, this type of fence will not need to be sanded and stained or repainted. Furthermore, unlike wood fences, ones made from vinyl fences are not vulnerable to splintering, rot, or termite damage. To help keep your PVC fence looking its best, simply wash it occasionally using soap and water. Contact us today for more.
Build Your Own Customized Quote