Skip to Content
What to Know Before You Build a Fence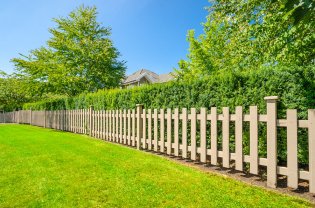 Installing a new fence might not seem like the most complicated home improvement project, but there's still quite a lot to consider to make sure that you end up with the perfect fence. There are also some steps you need to take to take to make sure that your fence stays up once the installation is completed. To help your new fence installation go as smoothly as possible, here are some things you should know before you have a fence built.
Know What You Want
The first step is obviously to decide what type of fence you want. You have a lot of options to choose from, including different materials such as wood, aluminum, iron, and vinyl. Your budget will help you determine which type of fence you can afford, though some fence contractors offer flexible payment plans so you don't have to scrimp on your new fence installation.
Know Your City's Fence Codes
Installing a fence isn't exactly cheap, but doing it twice can really set you back. To make sure that your fence doesn't need to be torn down and rebuilt, check with your local zoning office about residential fencing codes in your area. For instance, some cities have restrictions on how high a new fence can be, or even what color or type of material can be used.
Know Your Property Lines
On a similar note, you will want to know where your property actually lies. If you install a new fence on your neighbor's property, you will be responsible for the cost of tearing it down. If you are unsure about where your property lies, have your fence contractor find out before work begins.
Once everything is in order, contact an experienced residential fence contractor in Lake Worth to turn your dream fence into a reality. You may even be able to find a fence company that will research your property lines and local fence codes to ensure that your new fence stays up.
Build Your Own Customized Quote