Skip to Content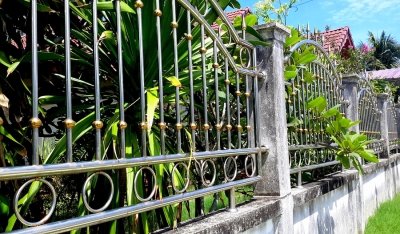 Fences can be both functional and aesthetically pleasing. An aluminum fence in Palm Beach County serves many purposes, such as delineating your property boundaries, helping to keep pets and kids safe, and keeping would-be intruders at bay. When you are talking to your fencing contractors about erecting a new fence, you'll have a number of choices to make. The material you choose for your fence will depend on your functional and aesthetic goals, as well as how much maintenance you're willing to do on your fence. Read on to learn about aluminum fencing and whether it might be the right choice for you.
Benefits of Aluminum Fencing
An aluminum fence offers many benefits for your residential or commercial property. Aluminum is strong and durable, and requires very little maintenance to keep it looking great for years. Unlike some other fencing materials, aluminum won't rust, rot, or fade, and should stand tall on your property with very little upkeep. If something should go awry, it is easy to repair an aluminum fence. Only the damaged section needs to be repaired or replaced, so it is a simple job for your fencing contractors. Another major benefit of aluminum fencing is the way it looks. Aluminum mimics the look of wrought-iron fencing, which is more expensive and can rust over time.
Maintaining Aluminum Fencing
When you know that you won't be able to devote much time to fence maintenance, aluminum might be the right fencing material for you. You can wash your fence every once in a while using warm water and soap to remove dirt and debris that have accumulated. Rinse all the suds off thoroughly, and your fence will look as good as new. You may also want to keep your hedges and other plants trimmed so that they don't grow around the fence. In some cases, however, you might want to train vines to grow on your fencing and give you added privacy.
Build Your Own Customized Quote