Skip to Content
What to Look for in a Privacy Fence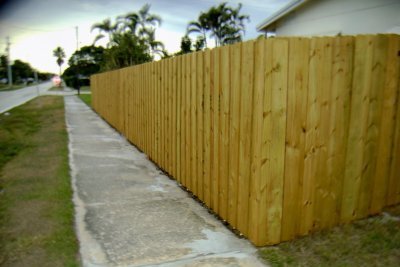 Having plenty of privacy is one of the best ways to make the most out of your property and feel comfortable in your home and backyard. If you are considering privacy fence installation in Palm Beach County, then read on for tips on what you should be looking for in this type of fencing.
The Perfect Height
The height of your privacy fence will play a significant role in its ability to function in the way that you are hoping. Most privacy fences are 6 to 8 feet in height. If you choose a 6-foot fence design but your neighbors have a deck that allows them to see over the fence into your yard, then this can defeat the purpose of the installation. Be sure to choose a fence height that helps ensure the maximum amount of privacy for you and your family. An additional consideration is that some areas have building codes regulating the type and height of fencing allowed, so be sure that you choose a fence that falls within these regulations.
The Best Style
For obvious reasons, privacy fencing should be made in a way that completely blocks any view through the fencing, so be sure to choose a variety that is solid throughout its design. In addition to this, it's important to consider material when settling on your privacy fence style. Wood, PVC, and vinyl tend to be the most popular choices for this type of fencing. Many people select wood for its aesthetic appeal but keep in mind that this material will require more upkeep than other options.
The Right Features
When people choose to install a privacy fence, it's often to achieve more than just better security and privacy for their property. Your privacy fence can provide you with soundproofing properties, a safe enclosure for your children and pets, added protection from the effects of weather on your home, and greater backyard comfort and convenience. Also, be sure that you take your property's walkways and enclosed areas into consideration when creating your new fence design to help get the most benefit out of your investment.
Build Your Own Customized Quote