Skip to Content
The Care and Keeping of Aluminum Fencing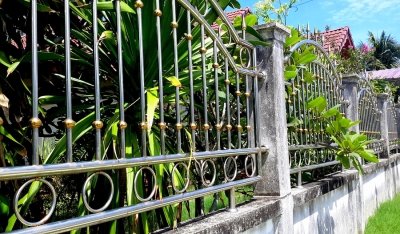 If you are seeking an incredibly durable fence material that will last for many decades, consider installing a new aluminum fence in your home's backyard. This type of fencing is renowned for its water resistance and ability to withstand high winds and other extreme weather conditions. A company that offers fence installation near Pompano can work with you to build a beautiful aluminum addition to your property. To help you keep your aluminum fence looking brand new, here is an overview of some essential care and maintenance tips:
Wash Every Few Months
An aluminum fence will need to be cleaned much less frequently than a wood or vinyl fence. However, it is essential that you thoroughly wash down your fence a few times a year. To wash your fence, you can use a garden hose and a gentle soap solution. Light scrubbing and rising should be enough to remove surface debris and restore shine and appeal to your aluminum fencing.
Trim Surrounding Bushes and Trees
Vegetation is a natural foe to an aluminum fence. When mature trees or shrubs grow too close to your fence line, they can penetrate the materials and cause structural issues. If you want your aluminum fence to last for as long as possible, take the time to trim surrounding bushes and trees back from the areas surrounding it. Careful landscape maintenance will go a long way toward preserving your fence.
Examine Fasteners and Hardware
In order to enter and exit the fenced areas of your property, you will typically use a gate that is attached to a series of hangers or fasteners. The hardware on your gate may have a tendency to wear out more quickly than the fence itself. To keep your fence properly maintained, check to see whether its hardware is starting to show signs of wear or strain. Any damaged hardware can be easily removed and replaced by your professional fencing contractor.
Build Your Own Customized Quote